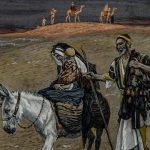 Joseph, you led your young family
from your house to a strange land
as you fled death and violence.
Pray for us when we must step into the unknown
in order to preserve or defend our families.
Mary, you comforted Jesus and strengthened Joseph
as you held your family together
in the midst of confusion and fear.
Pray for us when we face difficulties
that rise up suddenly to threaten our families.
Jesus, you joined us in this life
and ran all the risks we do
and experienced yourself as vulnerable and weak.
Fill us with your power
so we will live our lives in solidarity
with you and our families. Amen.

Adapted from PrayerTime: Faith-Sharing Reflections on the Sunday Gospels, available at the RENEW International store

Image courtesy of FreeBibleImages.org.