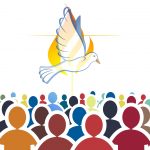 Come Holy Spirit, come!
Open our eyes to those whose minds are locked in fear,
whose hearts still cling to what was.
Direct us to those who need a sign of your love.
Show us how to heal our world, one person at a time.
This we ask through Jesus Christ
who abides with us through you.
Amen.

Adapted from The Word on Campus © RENEW International.