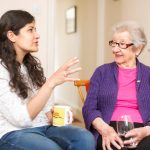 Father,
you come to us in our ordinary moments
to awaken us and call us toward a new reality
not of our own making.
Help me to be willing to let go
of what I seem to control
in order to be claimed as a disciple of your Son.
Let me have a share
in your liberating and transforming ministry
through the power of the Holy Spirit.
Amen.

Adapted from The People's Prayer Book, © RENEW International.