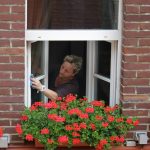 As the spring brings new life in nature,
Easter reminds us
of the new life Jesus has brought for us.
May we clean out what is old and unhealthy within us
and fill us with what is new and healthy,
positive and life-giving.
We ask this through Christ our Lord,
Amen.

Adapted from The Word on Campus © RENEW International.