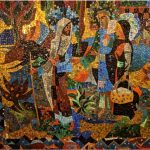 God,
You revealed yourself
on a dusty road
in dialogue with your companions.
Help us to see you in the
ordinary events of our lives
in the conversations
the quiet moments
the raucous moments
in those places we would rather
not see you.
Open our eyes to the ways
You constantly seep into our lives.
Amen.

Adapted from The Word on Campus © RENEW International.