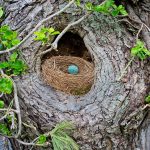 God of inexhaustible freshness,
we thank you for the glory of these spring days
when all creation celebrates the mystery of resurrection.
Give us a little time to "waste" today
just to praise you with our whole being
and enjoy being part of the glory of spring.
This we ask through Jesus Christ, Your Son,
in whom we live and move and have our being.
Amen.

Adapted from The Word on Campus © RENEW International.