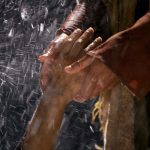 Loving God,
open our mind's eye
to understand more fully
what having faith in you
leads us to do.
Guide our faltering faith,
and increase our trust
so that, like you,
we may offer to others
the security, love,
and wonder of life in you.
Amen.

Image courtesy of www.LumoProject.com and is found at www.freebibleimages.org.

Adapted from PrayerTime, Cycle A: Faith-Sharing Reflections on the Sunday Gospels © RENEW International.