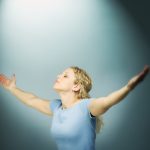 Loving God,
open our eyes to our need to hear
that we are your beloved daughters and sons.
May we become conscious that you are the God who cares for us,
the God interested in our well-being,
and that you walk with us always
giving us the inspiration to make the right decisions in our lives.
We ask this through Jesus Christ our Lord and Savior.
Amen.

Adapted from The Word on Campus © RENEW International.