Meditation on John 1:1-5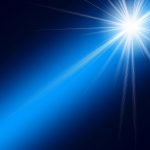 In the beginning was the Word,
and the Word was with God,
and the Word was God.
He was in the beginning with God.
All things came to be through him,
and without him nothing came to be.
What came to be through him was life,
and this life was the light of the human race;
the light shines in the darkness,
and the darkness has not overcome it.
The light shines on in the darkness.

The darkness may surround you,
but the darkness will not overcome the light.
The darkness may be your constant companion,
but it need not overcome you.
It need not be your life.
Seek the light. Seek it all around you, within you.
Let it be your lifelong partner, your protector, your energy, your salvation.
The light, the light within you and all around you, will help you overcome the darkness.
The darkness will try to surround you, take over your life,
and penetrate your very being,
but it need not destroy you.
The light will always shine, out there, somewhere.
Seek the light wherever you can find it,
and always look within, past the darkness, to the Spirit of Light that lives within you.
Yes! The Spirit of Light is your greatest gift to lead you out of the darkness.
Seek the gift. Rejoice in the gift. Live in the gift. Banish the darkness.
Live in the Light of the Spirit

—Bill Ayres

Scripture passage from the New American Bible, revised edition © 2010, 1991, 1986, 1970 Confraternity of Christian Doctrine, Inc., Washington, DC. All Rights Reserved.

Bill Ayres was a founder, with the late singer Harry Chapin, of WhyHunger. He has been a radio and TV broadcaster for 40 years and has two weekly Sunday-night shows on WPLJ, 95.5 FM in New York. He is a member of Our Lady Queen of Martyrs Church in Centerport, New York.