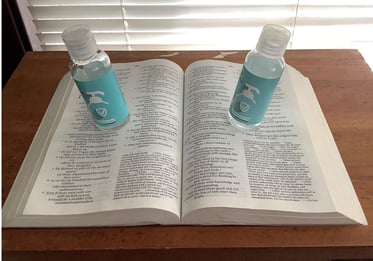 In so many public places nowadays we see bottles of hand sanitizers for public use. The pandemic has caused many of us to be very aware of cleanliness. Whether it is a bank transaction we do, or credit card machines we finger-tap, or groceries we touch, sanitizers offer chances to immediately clean off any contaminants and start fresh. Small chances to start over, to refresh, to be clean again are good, whether it be on a physical level or even a spiritual level.
With regard to the spiritual life, for example, we read in the Letter of James,
Draw near to God, and he will draw near to you. Cleanse your hands, you sinners,
and purify your hearts, you double-minded. (4:8)
At the beginning of Mass, after the greeting, the first prayer we say is a prayer of penance. We consider our past sins and ask forgiveness, so we start our Mass with a sort of conscience sanitizing. In fact, even before that, as we entered the church, we might have dipped our fingers into the holy water font and blessed ourselves so as to start fresh. We end the Mass with a new start as the celebrant gives us the final blessing.
Think about it. Would it be helpful to frequently review our interactions with others and try to "clean up" our possible sarcasm or uncharitable remarks or our not-so-loving afterthoughts? It is not that we are so terrible, but with the speed of modern technology and ease of communication, it is easy to come up with fast responses that are not always so loving. Perhaps we should sanitize a little more often and freshen up with kindness and understanding.
Let the words of my mouth and the meditation of my heart be acceptable to you,
O Lord, my rock and my redeemer. (Psalm 19:14)
In today's liturgy reading from the Acts of the Apostles, St. Luke tells us of a vision Peter had which ultimately told him that even the gentiles, the uncircumcised, had been "made clean." The gentiles had received the gift of the Holy Spirit. With the refreshing power of the Holy Spirit, we all can start fresh each day with renewed hope.
In this Easter Season, as we are refreshed in the joy of our resurrected Savior, let us pray today with St. Paul in his second letter to the Corinthians:
For we are the temple of the living God; as God said,
"I will live in them and walk among them,
and I will be their God,
and they shall be my people." (6:16b)
Since we have these promises, beloved, let us cleanse ourselves from every
defilement of body and of spirit, making holiness perfect in the fear of God. (7:1)
When we see those little bottles of sanitizer, let's take just a few seconds to ask the Lord for wisdom to squirt some everyday holiness into our world by our conscious efforts to infect others with the good news of Jesus Christ!
Create in me a clean heart, O God,
and put a new and right spirit within me. (Psalm 51:10)
†††
Photo by Sharon Krause
The scripture passages are from the New Revised Standard Version Bible: Catholic Edition, copyright © 1989, 1993 the Division of Christian Education of the National Council of the Churches of Christ in the United States of America. Used by permission. All rights reserved.
Sharon Krause is a RENEW volunteer whose writing has appeared in several resources for small-group faith sharing. She is a wife, mother, and grandmother residing in Manchester, Connecticut. Over the years, she has served in many parish ministries.