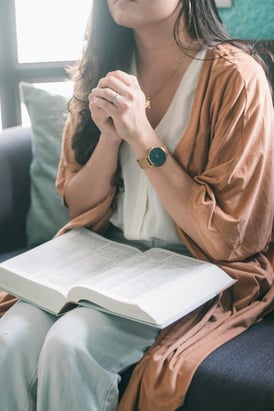 Sometimes, out of the blue, a person or event you have not thought about in a long time pops up in your memory. It might be hard at first to figure out what has triggered the thought. There are a number of possible explanations.
A certain word, location, scent or even melody can somehow connect your brain to a relevant moment in your life. The experience can be interesting and thought-provoking. It may also be a prompt for prayer. Maybe the Holy Spirit is suggesting you say a prayer for that person who is unexpectedly popping up in your mind. Perhaps it is time to slow down a little bit and just say a thank-you prayer for that blessing you are recalling or for the time the Lord gave you strength to weather a life storm.
Have you ever had the pleasant surprise of a favorite song that just happened to play just as you turned the radio on? How about the time an old friend crossed your path without notice? More occasions for thank-you prayers! We always hear, "Our thoughts and prayers are with you" when tragedies occur, but isn't it a good idea to think and pray during those small blessing times, too?
In today's world it is easy to get so used to instant responses whether on our computers and tablets or on our phones. It could be that these little pop-up incidents are opportunities to acknowledge our very creative Creator and his gifts to us.
It might be a good personal prayer exercise to ask the Lord to remind you of a particular event in your life in which you took for granted him or some gift he had given you. Gratitude is a wonderful bridge to prayer. It could be time for a bit of remedial self-reflection.
Certainly, there are times the pop-ups can remind us of sad events or a bad feelings, but even in those times we can acknowledge that we have had the strength of our faith and the availability of saving graces to encourage us and give us hope.
Let us pray and consider what St. Paul recommends in his first letter to the Thessalonians, verses 17-22:
Pray without ceasing. In all circumstances give thanks, for this is the will of God for you in Christ Jesus. Do not quench the Spirit. Do not despise prophetic utterances. Test everything; retain what is good. Refrain from every kind of evil.
†††
Photograph by Fa Barboza on Unsplash.
The scripture passages are from the New American Bible, Oxford University Press, 1990.
Sharon Krause is a RENEW volunteer whose writing has appeared in several resources for small-group faith sharing. She is a wife, mother, and grandmother residing in Manchester, Connecticut. Over the years, she has served in many parish ministries.