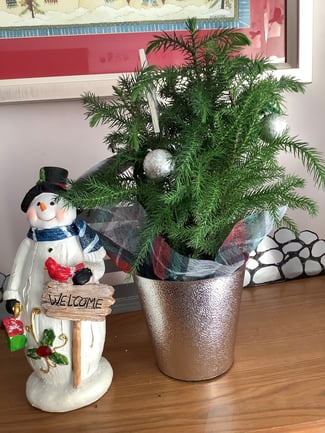 This past Christmas I received a surprise gift from a new acquaintance: a small Norfolk Island Pine tree in a silver pot. It resides atop my computer table in the kitchen, so I look at it often. In a way, it is like a new little friend given to me by a new human friend. As frequently happens, I have been led to some blog-worthy thoughts.
Do you ever think about the little surprise gifts God has given you? He gave me a little poem about a snowflake one day; another time, it was a favorite song popping up on the car radio at a time when I was feeling a bit weary. One day a friend from many years ago found my phone number and called me. Some people call those things coincidences, but I don't.
I am partial to green, so my little green friend is certainly welcome in my home. Liturgically, green is the color of hope—something we all need after two years of a pandemic. The tree is a lovely deep green color, and I pray our hope runs deep for a happier, healthier, year ahead.
(B)ut the Lord takes pleasure in those who fear him,
in those who hope in his steadfast love. (Psalm 147:11)
For surely I know the plans I have for you, says the Lord, plans for your
welfare and not for harm, to give you a future with hope. (Jeremiah 29:11)
So long as I remember to water wee "Verdie" (the name I have given my tree), it will continue to grow. I believe Verdie has good roots in the soil in that silver pot. We, too, strongly rooted in a belief in a loving, ever-present God, can grow to be more loving and understanding of others. I don't know how high Verdie will ultimately grow, but we can challenge ourselves and see how much we can grow closer to our Savior Jesus in this new year. We have to nurture our faith with a faithful prayer life and stock up on spiritual food for thought.
Verdie is silent in its beauty. It just sits there soaking up the sun. We are bombarded by so much noise that it is wonderful when we can enjoy the absence of auditory stimuli. The Holy Spirit might speak to our souls when we can pay attention. Who knows what inspiration we might experience?
Verdie has many tiny needles on each of its branches—too many to count. Each needle is important to the total beauty of the tree. Likewise, each of us has so many talents, abilities, and attributes—all parts of our total value. It is our job to make the most of all of them.
So let us not grow weary in doing what is right, for we will reap at harvest time,
if we do not give up. So then, whenever we have an opportunity, let us work for
the good of all, and especially for those of the family of faith. (Galatians 6:9-10)
Oops! I have to go. It's time to water Verdie!
†††
The scripture passages are from the New Revised Standard Version Bible: Catholic Edition, copyright © 1989, 1993 the Division of Christian Education of the National Council of the Churches of Christ in the United States of America. Used by permission. All rights reserved.
Sharon Krause is a RENEW volunteer whose writing has appeared in several resources for small-group faith sharing. She is a wife, mother, and grandmother residing in Manchester, Connecticut. Over the years, she has served in many parish ministries.