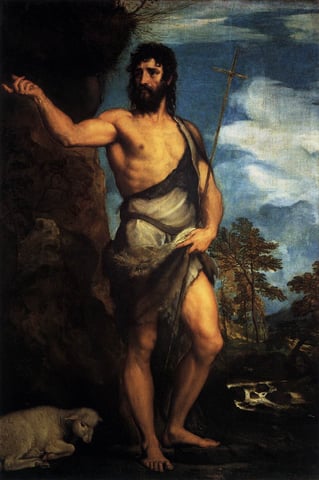 A reading from the prophecy of Isaiah
(Chapter 11:1-10)
The prophets of Israel preached several messages, some hopeful and some judgmental, but all intended to awaken the people of Israel during hard times and give them courage. Here, Isaiah talks about a new leader, a future king. "The spirit of the Lord shall rest upon him: a spirit of wisdom and understanding, a spirit of counsel and strength, a spirit of knowledge and fear of the Lord…. Not by appearance shall he judge, nor by hearsay shall he decide, but he shall judge the poor with justice, and decide aright for the land's afflicted. Justice shall be the band upon his waist, and faithfulness a belt upon his hips. Then the wolf shall be the guest of the lamb, and the leopard shall lie down with the kid, and the calf and the lion shall browse together, with a little child to guide them."
The kings that followed the greatest king, David, were far from the image Isaiah presents. They led their country poorly, so Isaiah wants to give the people some hope. We believe that this promised new ruler is Jesus, the Christ, and we place our hope in him.
Responsorial Psalm
(Psalm 72:1-2, 7-8, 12-13, 17)
The psalmist gives us the qualities of a true leader: "Justice shall flourish in his time, and fullness of peace forever." The psalmist gives us the qualities of a true leader. Would that that were always the case.
A reading from St. Paul's Letter to the Romans
(Chapter 15:4-9)
Paul is writing for both Jews and gentiles who followed Jesus, knowing that these groups did not always get along. "May the God of endurance and encouragement grant you to think in harmony with one another, in keeping with Christ Jesus, that with one accord you may with one voice glorify the God and Father of our Lord Jesus Christ. Welcome one another, then, as Christ welcomed you, for the glory of God."
Throughout history, there have been differences of opinion among us Christians even to the point that large groups broke away from the Church and formed new denominations. We live in a time of divisions between the old order and emerging challenges in which not doctrine but rather rules and traditions are being questioned. In this atmosphere, we need to keep focused on what Jesus himself preached and practiced, loving God and one another. That has not changed in two thousand years, nor will it ever.
A reading from the holy Gospel according to Matthew
(Chapter 3:1-12)
"John the Baptist appeared preaching in the desert of Judea and saying, 'Repent, for the kingdom of heaven is at hand…. It was of him that the prophet Isaiah had spoken when he said, 'A voice crying out in the desert, prepare the way of the Lord, make straight his paths.'"
John must have been a sight to behold. He "wore clothing made of camel hair and had a leather belt around his waist. His food was locusts and wild honey. At that time Jerusalem, all Judea, and the whole region around the Jordan were going out to him and were being baptized by him in the Jordan River as they acknowledged their sins."
But John was not fooled by the hypocrisy of many of the Pharisees and Sadducees who were coming for baptism. He said to them, "You brood of vipers! Who warned you to flee from the coming wrath? And do not presume to say to yourselves 'We have Abraham as our father.' For I tell you, God can raise up children to Abraham from these stones…. I am baptizing you with water, for repentance, but the one who is coming after me is mightier than I. I am not worthy to carry his sandals. He will baptize you with the Holy Spirit and fire."
John knew his role in life. As popular as he was, he knew that he was to prepare the way for Jesus, not be the message himself. His mission, his very life, was short but essential for the mission of Jesus. Each of us also has a role to play in the living and sharing of our faith. We too are not the message, but we are the messengers.
✝️
Painting: St. John the Baptist in the Desert, Tiziano Vecelli (Titian), circa 1542. Gallerie dell'Accademia, Venise. Public domain.
Excerpts from the English translation of the Lectionary for Mass © 1969, 1981, 1997, International Commission on English in the Liturgy Corporation (ICEL). All rights reserved.

Bill Ayres was a founder, with the late singer Harry Chapin, of WhyHunger. He has been a radio and TV broadcaster for 40 years and has two weekly Sunday-night shows on WPLJ, 95.5 FM in New York. He is a member of Our Lady Queen of Martyrs Church in Centerport, New York.