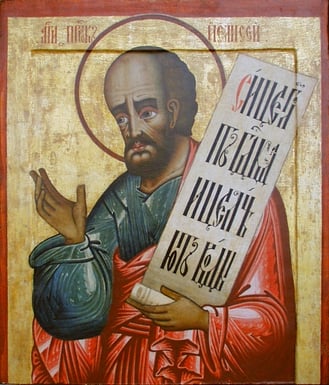 A reading from the Second Book of Kings
(Chapter 4:8-11, 14-16a)
The prophet Elisha—a disciple of Elijah in the ninth century BC, was traveling to a town named Shunem where he was invited for dinner with the family of a "woman of influence." This became the place for a meal whenever Elisha traveled in that direction. The woman suggested to her husband that they prepare a room for the prophet to stay overnight. Elisha was grateful for her generosity and asked, "Can something be done for her?" "His servant, Gehazi, answered, 'Yes! She has no son, and her husband is getting on in years.' Elisha said, 'Call her' When the woman had been called and stood at the door, Elisha promised, 'This time next year you will be fondling a baby boy.'"
This is one of many instances in the Jewish scriptures of the power of God to bring forth new life unexpectedly, a power that would take on new meaning in the Christian era.
Responsorial Psalm
(Psalm 89:2-3, 16-17, 18-19)
"Forever I will sing the goodness of the Lord." Sometimes it is hard to see the "goodness of the Lord," especially during times of overwhelming tragedy and sadness. Goodness may seem remote when we witness millions of helpless refugees, environmental crises, and rampant gun violence. Yet, the "goodness of the Lord" still shines forth. Where and when have you experienced this goodness? How have experiences of love and friendship and support helped you through hard times?
A reading from St. Paul's Letter to the Romans
(Chapter 6:3-4, 8-11)
Here is this deep and powerful reading from the letter to the Christian community in Rome:
"Brothers and sisters: Are you unaware that we who were baptized into Christ Jesus were baptized into his death? We were indeed buried with him through baptism into death, so that, just as Christ was raised from the dead by the glory of the Father, we too might live a new life. If, then, we have died with Christ, we believe that we shall also live with him. We know that Christ, raised from the dead, dies no more, death no longer has power over him. As to his death, he died to sin once and for all, as to his life, he lives for God. Consequently, you too must think of yourselves as dead to sin and living for God in Christ Jesus."
Paul wanted his readers to know that their baptism was not just one more event in their lives; it was a life-changing event. Of course, most of the people that he was talking to were baptized as adults. Today, almost all of us were baptized as babies, so it is harder for us to realize the power of our baptism, how it unites us with Christ even before we are conscious of who he is. What does it mean for you to be "living for God in Christ Jesus"? The Spirit of God lives in each one of us. Do you ever think about that?
A reading from the Holy Gospel according to Matthew
(Chapter 10:37-42)
The apostles had families, and there were conflicts between the all- consuming ministry of following Jesus and family obligations. Jesus knew how hard it was for the apostles to leave their families. That is the context for what appear to be very harsh requirements for being an apostle: "Whoever loves father or mother more than me is not worthy of me and whoever loves son or daughter more than me is not worthy of me; and whoever does not take up his cross and follow me is not worthy of me. Whoever finds his life will lose it, and whoever loses his life for my sake will find it."
But then, listen to this powerful statement: "Whoever receives you receives me, and whoever receives me receives the one who sent me." Jesus knows that his time on earth is short, so he wants to make sure that the apostles understand how hard their mission really is and how important it is.
What does it mean to be a disciple of Jesus today? What qualities and teachings of Jesus do we live every day? How should we bear witness to the teachings of Jesus in our everyday lives, especially facing many of the evils we experience that harm individuals and whole groups of people?
✝️
Russian icon of the prophet Elisha from the first quarter of the 18th century. Kizhi Monastery, Russia. Public Domain.
Excerpts from the English translation of the Lectionary for Mass © 1969, 1981, 1997, International Commission on English in the Liturgy Corporation (ICEL). All rights reserved.

Bill Ayres was a founder, with the late singer Harry Chapin, of WhyHunger. He has been a radio and TV broadcaster for 40 years and has two weekly Sunday-night shows on WPLJ, 95.5 FM in New York. He is a member of Our Lady Queen of Martyrs Church in Centerport, New York.