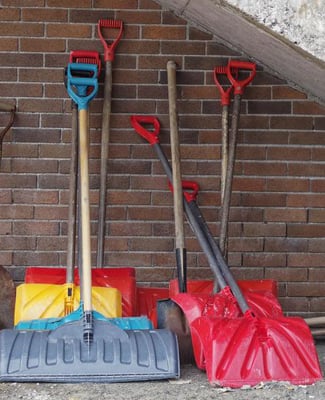 As I write this blog post, Connecticut is covered in a blanket of snow. It is time to break out the shovels to clear the sidewalks and driveways in order to make passage easier. Meanwhile, how about breaking out seven prayer shovels to scoop away anything that interferes with our joyful passage into the new year?
Shovel No. 1 will push away denial of the need for God in our lives and institutions. It can be easy to take our blessings for granted or substitute people or objects for God. Sometimes I recall all the small healings in my life over the years and, I have to reset my gratitude meter.
Shovel No. 2 can be used to scoop away persistent physical viruses and push in good health for soul, mind, and body. We can get so inundated with symptoms and fear of contagion that every part of our lives can be adversely affected.
Shovel No. 3 should be busy clearing impatience out of our way. Technology has helped make so many processes in our daily living very speedy that we can forget how to exercise self-control self-discipline. Patience remains a desirable virtue.
Shovel No. 4 can shove away controversy between individuals and nations. May peace reign in our hearts and in our lands this year. With the help of God, controversies and threats can be reduced and maybe even eliminated.
Shovel No. 5 should scoop up prejudice, thereby leaving attitudes of openness and receptivity. I know that is a tall order, but let's be optimistic!
Shovel No. 6 has the job of pushing away greed so that unprecedented generosity can have center stage. Our best selves are generous selves, and generosity often favorably backfires.
Shovel No. 7 scoops away tendencies to be lazy or irresponsible so that enthusiasm and accountability can take over. Sometimes changes in living conditions lead us to make excuses for inaction. When we are honest with ourselves, and with our Lord's help, we can "get a grip" on life and effect positive changes.
Now to him who by the power at work within us is able to accomplish
abundantly far more than all we can ask or imagine, to him be glory in the
church and in Christ Jesus to all generations, forever and ever. Amen.
(Ephesians 3:20-21)
†††
Photograph by Geoffrey Whiteway
The scripture passage is from the New Revised Standard Version Bible: Catholic Edition, copyright © 1989, 1993 the Division of Christian Education of the National Council of the Churches of Christ in the United States of America. Used by permission. All rights reserved.
Sharon Krause is a RENEW volunteer whose writing has appeared in several resources for small-group faith sharing. She is a wife, mother, and grandmother residing in Manchester, Connecticut. Over the years, she has served in many parish ministries.