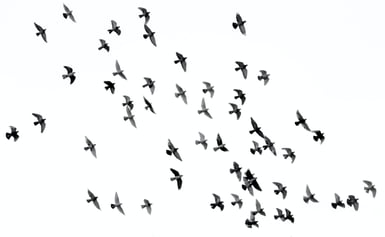 There I sat, in the passenger's side of our pickup truck, for hours and hours as my husband drove us from Connecticut to our new residence in Royal Palm Beach Florida. Being of short stature, I had the pleasure of the sun in my face when the visors were not long enough; but I also had wonderful views of large birds gliding among the clouds high in the sky above us. I noticed how gracefully they flew, how unencumbered their flights were in contrast to the sometimes jerky, crowded, stop-and-go vehicle traffic below them. I also became aware of how wide open and full the wingspreads of the birds were. Those natural aviators were fully open to the power and directions of the wind currents. While I could not ask the birds their opinions, their travels looked very peaceful and delightful.
So I propose the question to all of us: do we open our wings fully to the power and direction of the Lord? Apart from all the confusion and distractions of our daily lives, are we able to open ourselves up to the love and inspirations from the Holy Spirit? Not one of those birds had its wings open only halfway or one-sided. There was a complete openness to that which would offer efficient and safe propulsion. With the resources of prayer and sacraments, we can get through our busy traffic, and now, the holiday traffic…with a cushion of faith and confidence.
At the same time, we have the joy of the season of Advent when we can try to spread our wings fully, to open up and prepare for the celebration of the Lord's nativity. It is so easy to get "jammed up" with lists, shopping, decorating, rearranging, parties and party-planning, wrapping, and errands that can really cramp our style. Circumstances can ruffle our feathers! At the end of a busy day, who feels like praying? And yet, what and who should be our real priorities?
I suggest we wrap up a little prayer-time gift for Jesus every day. If we spread ourselves out and lift up our thoughts and imaginations with gratitude and trust in our loving Savior, we can be pleasantly surprised at the gifts we receive, even before Christmas Day! Open up to the Lord!
We might choose to look to St. Paul for some scripture verses to form the bases of our prayer-time gifts:
Do not conform yourselves to this age but be transformed by the renewal of your mind, that you may discern what is the will of God, what is good and pleasing and perfect. (Romans 12:2)
I am confident of this, that the one who began a good work in you will continue to complete it until the day of Christ Jesus. (Philippians 1:6)
Or we might look to Proverbs 3:5-6:
Trust in the Lord with all your heart,
on your own intelligence do not rely;
In all your ways be mindful of him,
and he will make straight your paths.
Let's take flight this Advent!
†††
Photograph by Mehdi Sepheri on Unsplash.
Sharon Krause is a RENEW volunteer whose writing has appeared in several resources for small-group faith sharing. She is a wife, mother, and grandmother residing in Florida. Over the years, she has served in many parish ministries.
Scripture readings are from the New American Bible, revised edition © 2010, 1991, 1986, 1970 Confraternity of Christian Doctrine, Inc., Washington, DC All Rights Reserved.