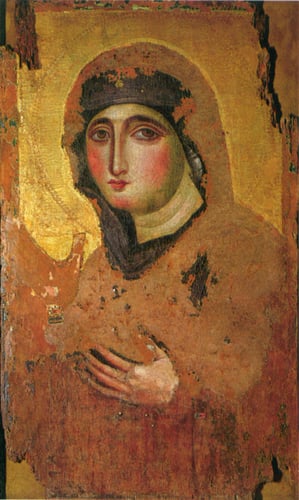 Two times in this month of August, we are reminded in special ways in the liturgy of the wonderful mother we have in Mary. We celebrated the Solemnity of the Assumption of the Blessed Virgin Mary in the middle of the month and began the readings with the entrance antiphon from the book of Revelation 12:1:
A great sign appeared in the sky, a woman clothed with the sun, with the moon
under her feet, and on her head a crown of twelve stars.
Queens I have read about usually have crowns full of precious jewels and robes made of special silks and threads. Mary, the Queen of Heaven, has a cosmic wardrobe and Scripture even tells us how angels rejoice in her assumption. The twelve stars in Mary's crown suggest some of the wonders of the Lord she prayed about in her Magnificat (Luke 1:46-55). She mentioned these twelve "star" reassuring facts about our Lord:
*the greatness of the Lord;
*He is her Savior;
*He has looked upon her lowliness and ensured that all ages will call her blessed;
*He has done great things for her;
*Holy is his name;
*His mercy is from age to age to those who fear him;
*The Lord has shown might with his arm, dispersing the arrogant;
*He has thrown down the rulers from their thrones;
*He has lifted up the lowly;
*He has filled the hungry with good things;
*He has sent the rich away empty;
*He has mercifully helped Israel, according to his promise to Abraham and his
descendants.
I suggest that each of us could list twelve "stars" or blessings the Lord has given to us in our lifetime. It may be a good exercise for a prayer time.
Mary, Queen of heaven, did not ride in a luxurious coach, but on the back of a donkey. She faithfully nurtured and raised our Prince of Peace. She heard his first words and saw him take his first steps. She witnessed his death on the cross and held His limp body in her lap. Mary, our queen and our mother, is strong and loving.
At tomorrow's Mass, we will celebrate the Queenship of the Blessed Virgin Mary. She is Queen of Heaven, the loving queen who intercedes for each of us. Just stop and think about how many times you have prayed, "Holy Mary, Mother of God, pray for us sinners now and at the hour of our death." She is a regal example of Our Lord keeping his promises. While not worshipped as a goddess, Mary is our humble, solicitous heavenly mother who gave herself unselfishly as mother to the Savior of the world. May we never let a day go by without thanking her. Hail, Mary, our Queen Mother!
†††
Image: Madonna del Rosario, 6th century or earlier. Possibly the oldest icon of Mary in Rome. This file appears under the following license and has not been altered: https://en.wikipedia.org/wiki/en:Creative_Commons
The scripture passages are from the New American Bible, Oxford University Press, 1990.
Sharon Krause is a RENEW volunteer whose writing has appeared in several resources for small-group faith sharing. She is a wife, mother, and grandmother residing in Manchester, Connecticut. Over the years, she has served in many parish ministries.