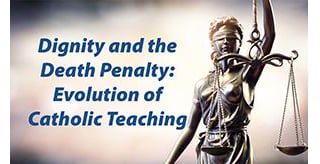 The State of Oklahoma has paused its executions until May 2023. This is hopeful news as it indicates that the state is not only looking over its method of execution but also allowing more time for appeals to be filed and reviewed. Members of the state legislature who still support the death penalty have expressed concern over the possibility of executing innocent persons. This is a step forward.
At this time, we can also pause and take note of the "final words" of five people who have been executed in the United States since 2020. We can reflect on their words and state of mind immediately prior to their deaths.
Brandon Bernard: "I wish I could take it back, but I can't."
Dustin Higgs: "I'd like to say I'm an innocent man. I did not order the killing."
Bigler Stouffer: "My request is that my Father forgive them."
Frank Jarvis Atwood: "I pray the Lord will have mercy on all of us and will have mercy on me."
Amber (Scott) McLaughlin: "I'm sorry for what I did. I am a loving and caring person."
Some facts concerning the persons quoted above:
Name

Execution Date

Location

Race

Victim Race

Conviction

Age

Years Death Row

Brandon Bernard

12/10/20

TX

[federal]

Black

White

Carjacking and murder of a man and woman

40

22

Dustin Higgs

1/16/21

MD

[federal]

Black

Black

Killing three women

48

20

Bigler Stouffer, Jr.*

12/9/21

OK

White

White

Killing a schoolteacher

79

18

Frank Jarvis Atwood

6/8/22

AZ

White

White

Kidnaping and murdering young girl

65

38

Amber (Scott) McLaughlin**

1/3/23

MO

White

White

Raping and murdering girlfriend before sex change

49

16
* Oldest person executed in Oklahoma
**first transgender person executed in U.S.