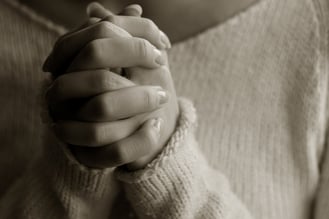 Uh oh! The warning light came on in our car! One of the tires seemed to be losing air! Off to the repair shop for diagnosis and help! It turned out that a rear tire had a small hole in the sidewall. New tire required, one that could hold the pressure!
The experience got me thinking about times when we can feel a bit deflated. Troubles come along and cause us to feel inadequate or unable to keep going smoothly. Even our spirituality can come into question. Sometimes it might feel as if we just have "blown it," and we get discouraged. Other times, we feel disgusted and blow things a bit out of proportion.
In today's liturgy reading from the Gospel according to John (16:33b), Jesus tells us we will have trouble in this world but assures us that he has conquered the world. Certainly, he was not talking about a soft tire or other daily problems of little consequence, but he does want us to turn to him in times of challenge and perceived vulnerability.
We all face trials during which we have to take a deep breath, pray for divine assistance, and believe in our God-given resiliency. Satan watches for little opportunities to weaken our faith in Jesus. We can confidently proceed by adding a little extra prayer time, or by asking our Blessed Mother to pray for us, or by sharing our faith experience with a close friend or spiritual confidant.
As we anticipate the celebration of the coming of the Holy Spirit at Pentecost, we could start our mornings in this last week of the Easter season by singing or praying this first verse of "Spirit of God," by Sr. Miriam Therese Winter:
Spirit of God in the clear running water
Blowing to greatness the trees on the hill;
Spirit of God in the finger of morning,
fill the earth, bring it to birth
And blow where You will.
Blow, blow, blow till I be,
but breath of the Spirit blowing in me.
If we become disheartened by all the bad news in the media these days, even a short prayer to the Holy Spirit can help. As we go about our daily routines, just take a deep breath, make an act of faith, and pray:
Come Holy Spirit! Breathe new life and hope into me and into our world. Alleluia!
†††
Sharon Krause is a RENEW volunteer whose writing has appeared in several resources for small-group faith sharing. She is a wife, mother, and grandmother residing in Royal Palm Beach, Florida. Over the years, she has served in many parish ministries.